Overview Of The F-1 Student Visa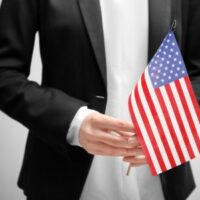 The F-1 Student Visa is a visa that allows international students to enter, and study in, the United States. With an F-1 visa, students can study in the United States, allowing them to reside in the country for the entirety of their studies.
What Are The Requirements For An F-1 Student Visa?
To receive an F-1 Student Visa, an applicant must meet the F-1 Student Visa  requirements. These requirements are as follows:
The institution the applicant wishes to study at must be approved by the Student and Exchange Visitors Program, Immigrations & Customs Enforcement.
The applicant must be enrolled in an academic educational program, a vocational program, or a language-training program.
The applicant must be a full-time student at the institution they wish to study at.
The applicant must be proficient in English or enrolled in English-language courses.
The applicant must have sufficient funds to cover the duration of their studies.
The applicant must maintain a residence abroad.
Within the context of United States F-1 visa law, an "institution" can be a:
University
Accredited college
High school
Private elementary school
Private middle school
Seminary
Conservatory
Applicants who wish to attend a high school have two options:
Attend a public high school for no more than 12-months, and pay the per capita cost for attending.
Attend a private high school for as long as necessary.
For applicants who wish to attend elementary or middle school, public school is not an option. Studying at a private school is the only valid option.
How Can You Apply For An F-1 Student Visa?
To apply for an F-1 Student Visa, an applicant must first be accepted by an institution that is SEVP-certified. Right after being accepted, an applicant will receive a signed I-20 form.
The I-20 form confirms an applicant's acceptance into an institution. Without an I-20 form, and a signature from the institution, an applicant will be unable to receive their visa.
Right after receiving a signed I-20 form, the applicant must pay the I-901 SEVIS fee. This fee is $350 for most people. It is unrelated to the fees that an academic institution charges. Those fees will be paid separately, directly to that institution.
Once the I-901 SEVIS fee has been paid, an applicant must file the DS-160 F-1 application form. Successfully completing this form, and sending it in, will lead to an interview at the nearest U.S. embassy.
Assuming each one of these steps is completed properly, and the interview goes well an applicant will receive their F-1 visa. With this visa, they can enter the United States and attend their studies.
Contact A Houston F-1 Immigration Lawyer Today
Receiving an F-1 Student Visa Lawyer means meeting the SEVP's requirements, completing the required forms, and conducting a successful interview. Each one of these steps can be tricky.
Speak with a skilled Houston immigration lawyer today. We will assist you through every step of the application process and help you acquire your F-1 Student Visa.
Sources:
uscis.gov/working-in-the-united-states/students-and-exchange-visitors/students-and-employment
travel.state.gov/content/travel/en/us-visas/study/student-visa.html